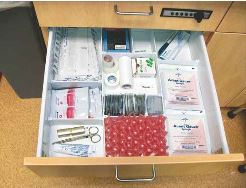 Strong clinical and operational performance at the nation's high-performing hospitals is associated with their more efficient use of drugs and supplies, according to a new study.
Lower-than-expected use of medical supplies and pharmaceuticals is linked to lower rates of mortality, lower 30-day readmission rates and higher patient-satisfaction scores at hospitals that score well in Truven Health Analytics' 100 Top Hospitals study, according to an exclusive study conducted for Modern Healthcare by the Ann Arbor, Mich.-based data and research firm.
Truven found that hospitals with less waste—and therefore lower-than-expected supply and pharmacy costs per discharge—outperformed others on multiple quality measures used by Medicare.
The study included 2,560 hospitals from Truven's flagship 100 Top Hospitals study for which pharmacy and supply data were available from Medicare. Together, the hospitals reported nearly 5.3 million discharges.