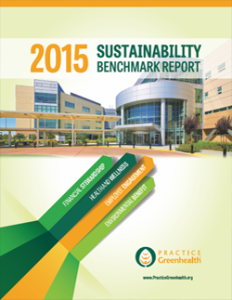 Today, Practice Greenhealth released their 2015 Sustainability Benchmark Report, which details recent dramatic environmental improvements in the health care industry and over $76 million in annual savings at 220 hospitals. The report provides insight on how industry leaders are successfully reducing their environmental footprint, achieving financial savings, and changing the culture of their organizations as they address environmental issues and opportunities in areas as diverse as energy, waste management, safer chemicals, water reduction, healthy food, green buildings, and climate impact.

The Sustainability Benchmark Report includes data and analyses on hospital practices in many areas including:
Waste volumes and costs
Waste reduction practices and programs
Chemical use and green cleaning
Environmental purchasing, including reusables
Sustainable food
Facilities and construction, including planned construction projects
Energy efficiency
Water use
Financial benefits
Green team development
Publicity and advertising
The Report provides a unique glimpse into hospitals' priorities, including trends and emerging areas of focus, helping to identify opportunities for improvement in an effort to establish sustainable practices over the coming years.

Read More.