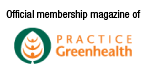 Practice Greenhealth provides an insightful overview of environmentally preferable purchasing (EPP) practices that are beneficial not only to end users but also to the entire supply chain.
The Practice Greenhealth Environmentally Preferable Purchasing Program enables health care facilities to evaluate the success of their EPP practices and incorporate best-practice solutions that strive toward engaged leadership, healthier food options, waste reduction, leaner energy, decreased water usage, and use of safer chemicals.
Practice Greenhealth's 2016 Partner for Change Award honors health care systems that promote sustainability practices such as introducing EPP practices to stakeholders and partners, and employing EPP practices for waste, energy and water management.
Click here to view Practice Greenhealth's checklist on ways to promote environmentally preferable purchasing.