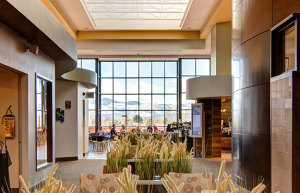 What started as a grassroots effort less than a decade ago has grown to be a substantial force for positive change in the health care field.
Source: Sean Moores, Greenhealth Magazine
At a quarterly meeting, an associate at Littleton Adventist Hospital suggested that the hospital implement a sustainability program. Recognizing how well caring for the environment aligns with their mission, the Sustainability Advisory Committee (affectionately called the green team) began as a grassroots effort in 2008. It is now one of the premier environmental sustainability programs not just in Colorado, but across the entire country.
The program started with the hospital taking inventory of all existing initiatives that could be classified as green and began assessing progress on each of those initiatives. Tracking regulated medical waste started in 2006 and through education, audits and implementation of reusable sharps collection containers, the hospitals experienced a 47 percent reduction in medical waste over the course of the last decade. Littleton Adventist Hospital was the first hospital within Centura Health to put this program into practice; the program is now in all 17 Centura Health hospitals…
Littleton Adventist Hospital's commitment to environmental stewardship has paid off. It has seen consistent improvement in areas such as recycling and energy use (with a 42.9 percent waste diversion rate in 2015, up from 34.4 percent in 2014), and through recycling, composting, reprocessing, reusing, repurposing and donations.