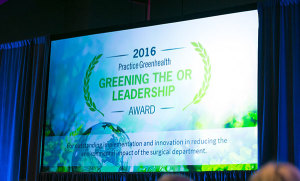 Practice Greenhealth's Greening the OR Recognition Award is a competitive award which celebrates facilities that make substantial progress in reducing the impact of the surgical environment.
Here are the honorees for the 2016 Greening the OR Circle of Excellence:
Cleveland Clinic
Harborview Medical Center
Johns Hopkins Hospital
Marymount Hospital
Memorial Sloan Kettering Cancer Center
Regions Hospital
University of Maryland Medical Center
University of Vermont Medical Center
Virginia Mason Medical Center
Yale New Haven Hospital
And here are some tools that these award-winning facilities utilize in order to make a positive environmental impact:
Regulated Medical Waste Reduction

Clinical Plastics Recycling

Reusable Canister Fluid
Management Systems

Rigid Sterilization Containers

Reprocessing Single-Use




Medical Devices

Yale New Haven Hospital in New Haven, Connecticut, surpassed its goal to collect and purchase 75 percent reprocessed compression devices, diagnostic ultrasound catheters, EP catheters and cables, external fixation devices, opened and unused or expired devices, tourniquet cuffs, endoscopic trocars and laparoscopic devices and achieved a 78 percent compliance rate in 2015. As a result, the hospital was able to save 20 tons of waste and $12,000 in avoided waste disposal costs. On the purchasing side, Yale New Haven Hospital was able to save more than $1.2 million on purchasing reprocessed single-use medical devices.