CleanMed Europe 2016 – Day 3 Round-Up

The final day of CleanMed Europe 2016 featured a wide range of parallel sessions where participants shared ideas and best practices on a wide range of topics including pharmaceutical management, waste management strategies and increasing education through leadership in the clinical environment.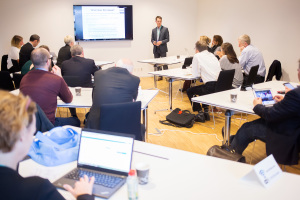 Daniel Vukelich of the Association of Medical Device Reprocessors explains how members of the association validate their procedures so that devices are classed as "remanufactured" and have the same safety standards as the original equipment manufacturers.  With devices costing thousands of Euros increasingly being sold as "single use," this service is increasingly important and can save significant amounts of money and waste.

Click here for the full roundup of CleanMed Day 3.
Thanks to everyone at CleanMed for making the event a success!