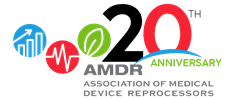 Aggressive Growth by Commercial Medical Device Reprocessors Saved Hospitals and Health Systems Nearly $500M Last Year, According to 20th Anniversary Report from Association of Medical Device Reprocessors
● Commercial reprocessing industry saved over $471 million for 8,885 hospitals and surgical centers in 2018
● Hospital uptake of commercial medical device reprocessing doubled yearly for the last 20 years
● Welcomed regulatory oversight by FDA and European Agencies provided key to safe growth
● Hospitals and surgical centers in all 50 States, the District of Columbia, Puerto Rico as well as Canada, Israel, Japan and the Europe Union, now partner with professional medical device reprocessors
[July 29, 2019 -Washington, D.C.] The Association of Medical Device Reprocessors (AMDR), in commemoration of its 20th Anniversary, today released industry-wide growth data indicating that commercial reprocessing of medical devices plays a major role reducing hospital and surgical costs and eliminates massive amounts of medical waste. The data is available as an infographic.
AMDR is the global trade association representing the interests of the professional medical device reprocessing industry. Members report more than doubling (112%), year-overyear, the amount reprocessing saves hospitals in medical device and waste disposal costs. "Commercial reprocessing is 'the little industry that could,'" said Dan Vukelich, Esq., President, Association of Medical Device Reprocessors. "Medical device reprocessors are disrupting the Medical Device industry, injecting competition that lowers healthcare costs."
When AMDR was founded in 1999, FDA was beginning to regulate reprocessing of devices originally labelled for single patient use. The decision by FDA to regulate reprocessing as manufacturing effectively halted hospital's reprocessing in-house and gave birth to regulated, professional reprocessing companies.
Today, with strict regulatory oversight innumerous countries, the use of professional reprocessed medical devices results in massive savings for over 8,800 hospitals and surgical centers worldwide – all with no added safety risk to patients.
"The commercial reprocessing of single patient use medical devices has undergone massive growth in the last 20 years because it works," said Adam Robinson of Cardinal's Sustainable Technologies, and Chairman of AMDR. "Reprocessing reduces costs, increases access to care and reduces the impact of healthcare delivery on the environment without adding risk to the patients. If hospital executives are looking for ways to reduce healthcare costs without increased risk to patient safety, medical device reprocessing should be at the top of their lists."
AMDR-member reprocessors partnered with hospitals and surgical centers that:
• Saved $471,854,102 in US, Canada, and Europe in 2018; and,
• Diverted 15,889,741 pounds of medical waste in the U.S., Canada, and Europe last year alone.
Among the key findings, in 2018 AMDR member reprocessors:
• Averaged annual growth of 112.5% year-over year in each of the last 20 years;
• Served 100% of the U.S. News & World Report "Top Hospitals";1
• Served hospitals and medical centers in all 50 States, the District of Columbia, and Puerto Rico as well as in Canada, the European Union, Israel and Japan;
• Served 19 of the top 20 U.S. military surgical hospitals;2 and
• Served 7,392 hospitals and medical centers in the U.S. and Canada and 1,493 hospitals and medical centers in the EU.
Industry leaders attribute the massive growth in no small part to vigorous oversight by the U.S. Food and Drug Administration, and compliance with the European Medical Devices Regulation, and other international medical device regulatory oversight authorities. In addition, AMDR-members adhere to internationally-recognized medical device manufacturing standards and are arguably the MedTech industry's leading experts in cleaning.
Some original equipment manufacturers initially fought the practice of reprocessing single patient use devices. Now, major device manufacturers including Arjo, Cardinal, Medline, and Stryker, have joined AMDR and are among the world's leaders in reprocessing single patient use medical devices.
Use of reprocessed devices ensures the highest possible quality, and lowers overall cost per device use, enabling hospitals to access new technologies and serve a growing patient population for less money – with no increased risk to patients.
About AMDR
Founded 20 years ago, AMDR is the global trade association consisting of members of the regulated, commercial single-use device reprocessing and remanufacturing industry. AMDR represents the reprocessing industry, promotes reprocessing as an important heal thcare strategy that helps hospitals and healthcare providers increase quality, reduce costs and improve patient care, and protects the interests of its members in regulation, legislation and standard -setting world-wide.
AMDR members include Innovative Health, Medline Renewal, Nescientific, ReNu Medical (an Arjo subsidiary), Stryker's Sustainable Solution, Sustainable Technologies (a Cardinal Health Business), and Vanguard AG.
Having played a key role in the establishment of the reprocessing industry, AMDR continues to push the medical technology industry and lead the way for reprocessing to play a defining role in the evolution and utilization of new device technologies.